Virtual U.S. Soy Global Trade Exchange & Specialty Grains Conference gets underway
By Shane Frederick, SSGA Communications Manager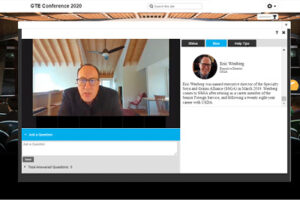 Months of planning and coordination came together on Monday and Tuesday as the 2020 U.S. Soy Global Trade Exchange & Specialty Grains Conference (GTE) kicked off on a virtual platform.
More than 1,000 international buyers and sellers from over 50 countries are expected this week to participate in the GTE, which runs through Thurs., Aug. 27.
"Like you, of course, we wish we were gathering in person – shaking hands, visiting with old friends, making new ones, learning and doing business together – and the hope is we'll be able to do that again next year," Specialty Soya and Grains Alliance (SSGA) Executive Director Eric Wenberg said in his comments to close Tuesday's general session. "But this week, we've been able to do the next best thing thanks to all of the hard work of so many people … who put in so much time, care and effort to pull this off in spite of the many challenges."
The GTE started with style on Monday evening and Tuesday morning (U.S. times) with live performances by the band uRequest Live, which rocked song suggestions from attendees located throughout the world.
The event then began in earnest on Tuesday with a welcome from U.S. Soybean Export Council (USSEC) CEO Jim Sutter and remarks from Ted McKinney, USDA Under Secretary of Agriculture for Trade and Foreign Agriculture Affairs.
McKinney, speaking from a farm in Indiana, talked about the U.S. Soy "advantage": exceptional composition, consistent supply, sustainability and innovation "beyond the bushel."
That was followed by a live Q&A with Ken Isley administrator of the USDA's Foreign Agricultural Service and two general sessions: "Liquidity Surge! Its Impact on Supply & Demand and Global Markets," featuring speakers from CoBank Knowledge Exchange, and the "Pro Farmer Crop Tour Report," which shared insights from Pro Farmer's just-completed 2020 tour.
Wenberg gave the day's closing remarks before officially opening up the daily trade show, which features virtual booths from 34 exhibitors, including SSGA and 18 SSGA member companies and organizations.
Virtual GTE organizers have tried to give attendees the closest experience possible to an in-person show with opportunities to visit in a virtual lounge and chat both publicly and privately.
Besides the sessions and the trade show, there is a virtual kitchen where renowned chef David Bonom prepared four "soy-inspired" dishes specifically for the GTE. Bonom is also doing live, hour-long chats to "talk all things soy" with attendees. Bonom chatted on Monday evening and Tuesday morning and is scheduled to chat again at 6 p.m. CDT Wednesday and 7:30 a.m. CDT Thursday.
There also are also virtual field tours, giving attendees a chance to see farms, logistics and examples of sustainability from all over the United States.
On Wednesday morning, there will be two SSGA breakout sessions, including "Container Shipping Landscape: The New Reality" and "Traceability – Trusting the Quality of Food You Demand."
In addition, Wednesday's program features RFD-TV's "State of the Industry" premier and USSEC breakouts on U.S. Soy sustainability and the use of U.S. Soy protein to increase profits.
And on Thursday morning, Paralympic hopeful and farmer/rancher Kevan Hueftle will tell his inspirational story to start the day. After that, an SSGA breakout, "Food Soya Exporter Outlook" will take place, along with a USSEC breakout on soybean oil from the U.S.
Those will be followed by a general session featuring U.S. Trade Representative Gregg Doud, the chief agricultural negotiator, as well as a market outlook and strategies discussion.
All morning sessions repeat in the evenings for convenience of attendees worldwide. The trade show is open for two hours following each session.
Go here more information on the GTE and to see the full agenda, and use the hashtag #USSOYexchange on social media to find more information.